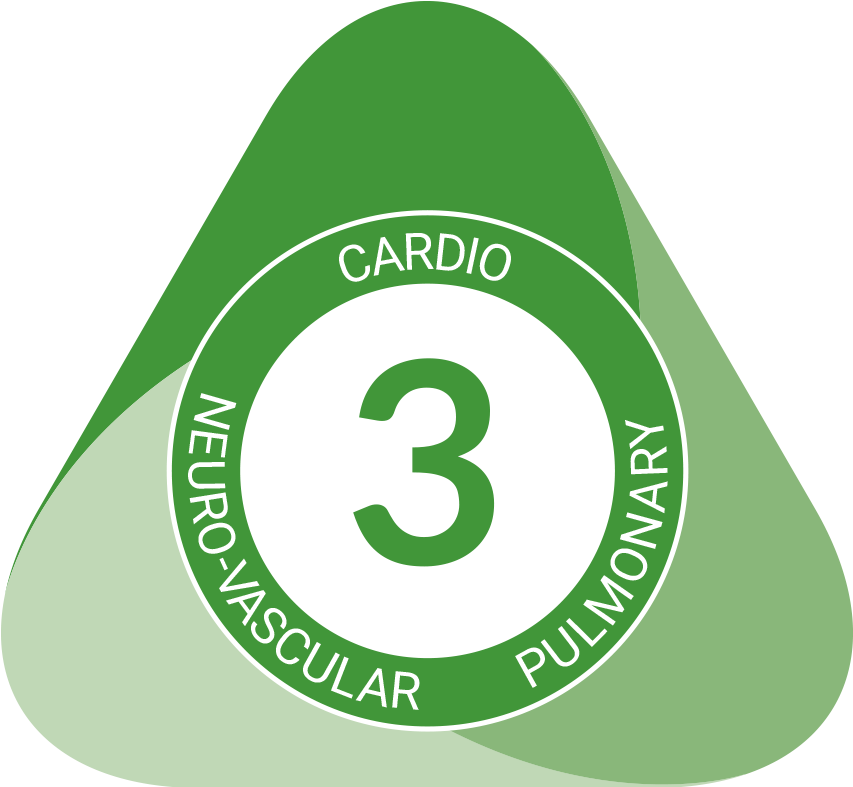 TRIAD 3: Endurance
(Cardio, Pulmonary, Neuro-Vascular)
TRIAD 3: Endurance
(Cardio, Pulmonary, Neuro-Vascular)
This TRIAD includes the cardiopulmonary unit, autonomic nervous system, and the vascular tree. This Triad reflects the relationship of mind and heart, mediated by the respiratory cycle.

When Triad 3 is balanced, the individual has plenty of metabolic resiliency and strength to meet the challenges of life. When levels are not in sync one can become inflamed and spasmodic. 
Learn More About Each TRIAD 3 System
Cardiopulmonary
Neuro-Vascular
Cardiopulmonary
SUMMARY
The cardiopulmonary system comprises organs and structures  relating to both the circulatory system and the respiratory system,  including the heart, lungs, pulmonary artery and vein, aorta,  trachea and bronchi. These organs are located in the thoracic  cavity of your body.
FUNCTION   

The function of the cardiopulmonary system is to deliver oxygen  and nourishment to the cells of the body and to remove waste in  the form of carbon dioxide. The heart generates the pressure  needed to perform this operation. This pressure allows us to  breathe and keeps blood flowing throughout the body.
IMPORTANCE 

The cardiopulmonary system relates to all other organ systems in  the body and to the body's metabolic health. Imbalances in  metabolism can lead to cardiopulmonary problems. Cardiovascular  disease (CVD), or heart disease, is the number one cause of death  in the United States, with over 70 million Americans have  cardiovascular problems.
Chronic stress, lack of quality sleep, immune imbalances,  imbalances in brain chemistry, gut health, environmental factors  like smoking and pollution, weight gain/obesity, chronic  inflammation, hormonal imbalances, insulin resistance, high blood  pressure, increased oxidative stress and damage, cholesterol and  blood sugar imbalances, poor diet and lack of exercise all can lead  to heart, lung and blood vessel problems.
Neuro-Vascular
How the Metabolic Code® Works
1. Labs & Lifestyle Questionnaire 
Take our signature comprehensive lab panel and lifestyle questionnaire to identify where your systems are currently out of balance. 
2. Personalized Supplement Program
Based on your results take pharmaceutical grade and clinically tested supplements that are compounded specifically to address each TRIAD. 
3.  Metabolic Code Diet 
Based on your profile you will get a detailed Metabolic Code Diet program that will significantly benefit your results and help you reach a healthy weight. 
Questionnaire, Labs and Biometric 
Thee most comprehensive personal assessment available.