Metabolic Code

®

is the tool practitioners need to deliver personalized plans that change lives.
Healthcare should be exciting, and Metabolic Code helps bring that energy and spark back to your practice. See why so many practitioners are turning to Metabolic Code® as their software of choice for guiding their patients healthy lifestyle journey.
Made for the Best, by the Best
Metabolic Code® is a complete platform for managing the lifestyle and metabolism of your patients. When you become a Metabolic Code® practitioner you will enjoy many professional services to support every aspect of your practice to ensure improved outcomes and increased revenues while simplifying the process of care.
Metabolic Code® is one of the fastest growing networks of medical wellness professionals in the United States. Invest in the health of your practice and become part of the Metabolic Code solution! Work smarter, not harder.
Metabolic Code® Pro for Practitioners
Metabolic Code® Pro Software
Access All Diet Plans & Programs
Add Metabolic Code® to Your Practice
Ready to get onboarded and start generating reports for your patients, and more revenue?
Increased Practice Efficiency and Success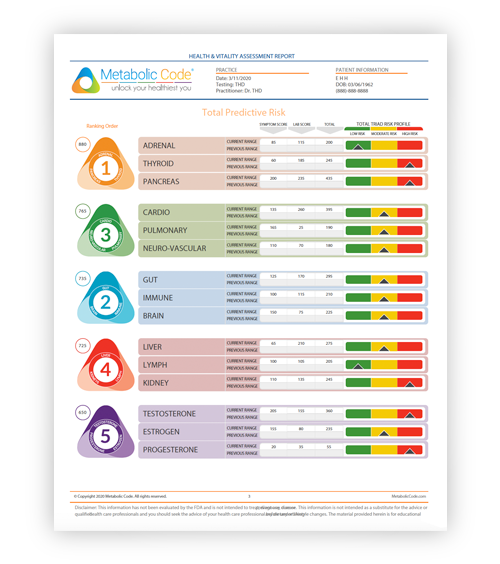 Proprietary algorithms, the TRIAD system, and actionable patient reports
The metabolic code automatically integrates over 16,000 proprietary, evidence based algorithms generating a metabolic code report, with targeted and actionable recommendations including dietary supplements, diet programs, compounded prescriptions, as well as lifestyle interventions. 
We aggregate information from our web-based questionnaires, biometrics, wearable data, and laboratory testing to define the current metabolic roadblocks and challenges of the patient; creating a simple plan to restoring their vitality.
Information is organized using a clinical systems biology approach. Our one-of-a-kind TRIAD system helps bridge the communication between practitioner and patient. It empowers patients to understand their results and why they need to take action. 
Easily increase revenue while scaling your practice
The Metabolic Code provides many avenues to increasing practice revenue, as well as other benefits.
We offer a FREE comprehensive marketing material for practitioners.
Registered practitioners receive full access to the Metabolic Code resource library.
We provide on-going education to our practitioners driving business innovation through application of the Metabolic Code® in a clinical setting. 
Turnkey Supplement Fulfillment, Task Automation & Payment Processing
The Metabolic Code Supplement Solution (MCSS) offers a turnkey fulfillment service to automatically deliver products to your patients through our advanced Auto-Order solution or In-Office distribution.
The Metabolic Code Supplement Solution (MCSS) provides an outlet for increased patient compliance and adherence, alongside increased practitioner revenue.
The Metabolic Code also helps simplify other backend processes like:
Scheduling 
Access to multiple clinical laboratories
The best in class products, goods, and services at your finger tips.
Insurance billable labs, even if physician is not an insurance participating provider. Submission is through lab not through the office.
Reports are automatically generated based on patient biomarkers, wearable data, a comprehensive lifestyle questionnaire, and laboratory results.
Lab results are automatically posted to the patient's account when ordered through the Metabolic Code Platform, freeing office staff from the tedious tasks of tracking down lab results.
Any declined or rejected credit card transactions on product orders are handled through the Metabolic Code support team.
IMG IDEAS:
laboratory, lifestyle, fitness, food, genetics, mindfullness, community
representing individuation of healthcare
hub and spoke image 
Metabolic Medicine® – Combining Lifestyle and Integrative Medicine Delivering Performance Healthcare Into Your Practice.
We understand that technology cannot replace the expertise of the practitioner or the quality of the therapeutic relationship. While we will keep updating the algorithms to reflect best practices based on our continuous patient centered outcomes research, our Metabolic Code practitioners also require ongoing education to remain at the cutting edge of lifestyle and integrative medicine.
Metabolic Code is proud to be educationally partnered with the American Academy of Anti-Aging Medicine to offer an extensive array of educational opportunities by the experts in the field through webinars, online events, in person modules and practical immersion seminars. We have run the most successful academic programs in the world on all subjects related to wellness, nutrition, and metabolism. Our Metabolic Code practitioners will remain at the forefront of our field by attending A4M and Metabolic Medicine® events!
Begin to explore the Pro Toolkit to get a glimpse of just some of the educational and business support materials available to our practitioners.
CME will be offered when appropriate. (ASK ANDY) 
INSERT IMG: team image – cracking healthcare in academic setting 
Metabolic Code Informatics and Research.
(ASK ANDY) 
Our university based informatics team analyzes billions of data points giving us the capability to generate best practice and clinical care guidelines, research and health policy manuscripts, and influence the broader practice of medicine.
Our practitioners enjoy the educational benefits derived from this marriage of clinical services and outcomes research to ensure maximal outcomes in every patient.
We have always been committed to bringing you the best supplements and formulations. We work with  NSF certified dietary supplement manufacturers, and compounding pharmacies to create one-of-a-kind formulations for each TRIAD. We only recommend ingredients that have been clinically proven to show results. 
We are excited to announce our new product quality verification program through TruTrace Technologies. You will now have transparency into every ingredient and product. 
Non-Licensed Health Care Professionals
Our goal is to help any many people take control of the their health, and the only way we can do so is by supporting our practicing healthcare professional. Using Metabolic Code® in your practice is a great addition to any of the following practice types:
Health Coaches
Fitness Trainers
Athletic Departments
Dietitians and Nutritionists 
Chiropractors
Corporate Wellness Programs
What practitioners are saying
"The TRIAD system has been instrumental in my practice of functional medicine allowing me to accurately educate the patient on how these systems impact each other. It also aids in the final determination of products necessary to correct these underlying metabolic derangements. Understanding the TRIAD relationships has been a breakthrough in understanding functional and integrative medicine..."
Kenneth Orbeck DO, ABAARM
Practitioner
"The Metabolic Code has helped streamline my practice. Using the questionnaire and labs has helped cut my initial visit time by half, which allows me to see and help more people. The Metabolic Code produces more than 40,000 different scientific algorithms that help specify exactly what metabolic pathway need to be addressed in each individual patient and how to address them in an organized and efficient manner. Patients also love this system because they begin to see results very rapidly, feeling better, more energy and losing weight, patients love to show their friends. This is the perfect fit for any practice."
Gordon Crozier, D.O. ABAARM
Practitioner
"I have always taken a holistic approach to performance and physical development. When I learned about the Metabolic Code and the detailed information it provides, I immediately thought it would have a tremendous impact on the health, resilience and performance of our players. After using it with several of our players, I feel that I now have the information on how our athletes respond to the stressors of an NHL season and what interventions I need to take to resolve any issues and maximize performance."
Mike Potenza M.Ed., C.S.C.S, TSAC-F
Practitioner
I practiced interventional cardiology for over 20 years, first as an Army physician, then in private practice. I transitioned my practice to an integrative and preventive cardiology practice in ~ 2010. I have been using the metabolic code with my patients for over 10 years. The metabolic code, a systems biology approach to health and wellness, tells a complex story using simple means-colors and numbers-that patients easily understand. Patients are visual, and showing them with colors and numbers where their overall cardiovascular health is, and what to focus on, is impactful and motivates patients to comply with the recommendations. I highly recommend the metabolic code for cardiovascular practitioners, regardless of subspecialty, to enjoy an interactive and more meaningful patient-doctor relationship.
Doreen Saltiel, MD JD FACC
Practitioner
FAQ
Find answers to your questions here.
Contact Us
Want to talk to a team member?
Request a Demo
Experience Metabolic Code® firsthand.